Blue's Duncan James denies crowbar claim at murder trial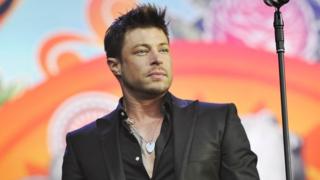 Blue singer Duncan James has denied using a crowbar to threaten the landlord of a woman accused of murder.
The pop star gave written evidence during the Old Bailey trial of Sabrina Kouider and Ouissem Medouni over the death of au pair Sophie Lionnet.
Ms Kouider and Mr Medouni admit burning the French nanny's body in their garden in Southfields, but deny her murder.
Mr James said he met Ms Kouider once with Boyzone founder Mark Walton.
At the trial last week, defence lawyer Orlando Pownall QC asked Mr Medouni, 40, about when police were called to Ms Kouider's flat when she lived in Queensway.
Mr Pownall said the landlord complained Ms Kouider, 35, and a man had "threatened him with a crowbar".
Mr Medouni said Ms Kouider told him the man she had been with was Mr James, who he said lived nearby.
He said Ms Kouider saw the One Love singer as a "good friend", having met him through her ex-partner Mark Walton.
The court had previously heard she became obsessed Ms Lionnet was in league with Mr Walton against her.
In a statement read to the court on Friday, Mr James said: "I can categorically state I met Sabrina only once together with Mark Walton in 2012.
"I have never lived in or near Queensway in W2 and was never involved in any incident with a crowbar. In 2013, I lived in Ealing."
Ms Kouider said she and Mr Walton met in a Santander bank in 2011.
But she said after their romance blossomed and he moved into her flat in Queensway, he became "crazy" and jealous.
She claimed he pushed her while she was pregnant, causing her to lose her baby.
'He always made me cry'
Giving evidence in her defence, Ms Kouider said she was abused by Mr Medouni for years during their "up and down" relationship.
She said he slept with her in 2001 before telling friends about it, calling her "dumb", and slapping and kicking her.
She added: "He was with me for sex, nothing else, and money."
The court heard the couple split up after going to a party that Donald Trump was also at in 2011.
Jurors had previously been told Ms Kouider mentioned her connection with the US president while interrogating Ms Lionnet.
On splitting up with Mr Medouni, Ms Kouider said: "We did argue. He was always making me cry. I did not understand why his behaviour was like this with me."
But an ex-boyfriend of Ms Kouider's said she was "aggressive" and often targeted "weaker" people.
Anthony Francois, from Paris, said in a statement: "She was strange. She could be lovable and she could be detestable.
"She would often shout and become aggressive. Her behaviour was difficult, incomprehensible.
"She loved attention."
He added that Ms Kouider was sometimes violent, and "pulled the hair of girls in the street" because of a "look".
During a police interview, he said: "She had a dual face, a dual personality. She knew who she targeted, in other words the weaker ones."
Mr Francois also said Mr Medouni was distant, cold and "insular".
The trial continues.