Upper Norwood library in late-night cabaret licence bid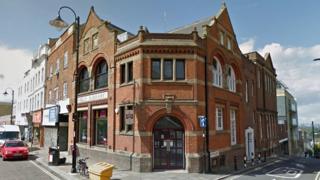 A library has applied to extend its opening hours until late and serve alcohol so it can host cabaret evenings, concerts and comedy nights.
The licence request is to keep Upper Norwood Library Hub open until 23:00 on Sundays and weeknights, and 01:00 on Fridays and Saturdays.
The trust which runs the community-led service in south-east London said it plans to host a two-week arts festival.
Lambeth Council will decide whether to grant the application.
The trust said it wanted to open late to turn its upstairs main hall into a "pop-up arts venue" for the Attic Arts Club festival between 4-17 June.
According to the licence application, the event will see "performances of adult-themed cabaret and similar comedy shows" as well as live music, children's entertainment and film nights.
The library has previously faced closure and already hosts activities such as exercise and art classes, in addition to regular services like lending out books.
The application is for a 12-month period and the trust has said it hoped to run similar shows during the year.
Lambeth Council has yet to comment on the application.