Abraham Badru Hackney murder: Son shooting was 'revenge'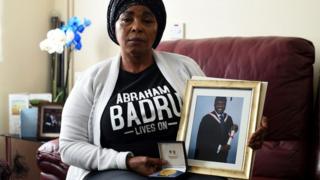 The mother of a man who was shot dead outside his home believes he was killed as revenge for helping to convict a gang of rapists.
Abraham Badru was shot in the chest in Dalston, east London, on 25 March while speaking on the phone with a friend.
The 26-year-old received a bravery award in 2009 after he saved a girl from being gang-raped at a party, later giving evidence against her attackers.
His mother Ronke said she believed "in my heart" it was why he was killed.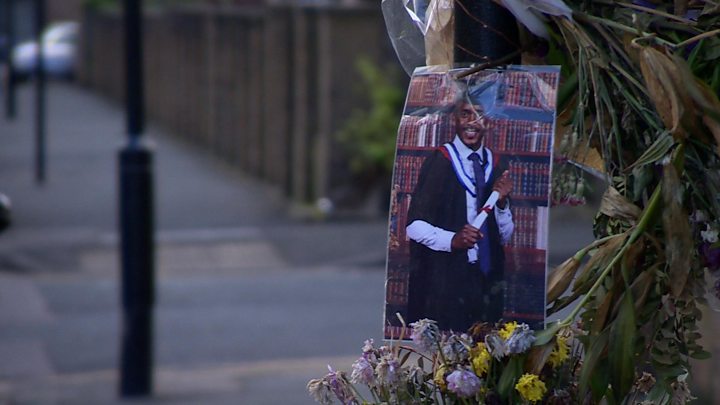 Ms Badru said her son was threatened and his home was pelted with eggs after he stopped the attack as a 14-year-old, leaving him "scared for his life".
He moved to Bristol in 2009 to study but returned to London to look for work in 2016.
Mr Badru bumped into one of the attackers, who had since been released from prison, in a nightclub and had to run away. His car was also vandalised.
Ms Badru described Abraham as "a very peaceful man" and "a very respectful boy and loving child".
"Who would choose to do this to Abraham? Who has he offended to that extent to take his life away?" she said.
Investigators have said revenge is one line of inquiry but also believe it may have been a case of mistaken identity.
"I have said the answer lies in the community and I still believe that," said Det Ch Insp Noel McHugh.
He said police are still trying to trace four people who were near the scene but have not yet come forward.
"We are particularly keen to hear from anyone who saw a male cycling in the area around the time of the murder on a white bicycle - this could be the killer."
A £20,000 reward is on offer for information leading to the arrest and prosecution of the killer.