Beautician Paris Bregazzi jailed for attacking police officer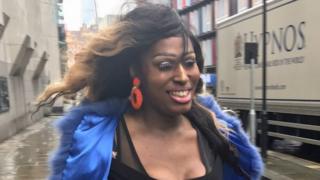 A transgender woman has been jailed for attacking a constable weeks after being spared prison for pushing another police officer on to Tube tracks.
Paris Bregazzi, 30, previously admitted shoving PC Sam Chegwin at Hangar Lane station.
But she ended up in the dock again accused of kneeing PC Florina Russ in the chest and spraying perfume at a Waterloo security guard.
She was jailed "for public protection", Judge Rebecca Poulet said.
On 20 February, Bregazzi appeared at the Old Bailey over the Hangar Lane attack and was handed a six-month jail term suspended for two years.
The court heard that last July Bregazzi had drunk four bottles of Prosecco and was arguing with a friend on the platform when PC Chegwin intervened.
'Not in a good mood'
She returned to the Old Bailey on Tuesday to be sentenced for her latest offences.
The court was told that on 5 March Bregazzi was seen on Stockwell Road, south London, acting "aggressively" towards two elderly ladies at a bus stop and throwing wheelie bins in the street.
Bregazzi threw a brick into the road, smashing the window of a parked Ford Fiesta, before walking in front of a bus which swerved to avoid her, the court heard.
She went on to knee arresting officer PC Florina Russ in the chest before being restrained, the Old Bailey was told.
In an interview she explained she was "not in a good mood".
Five days later Bregazzi, who was on bail, sprayed Paco Rabanne perfume at security officer Rashpal Mudahar at Waterloo Station, the court heard.
She went on to cause damage to a cell at Brixton police station by throwing food at the walls, covering them in tomato ketchup.
Crystal meth was found stuffed inside her bra, but she was not charged over it, the court heard.
'Damaged individual'
Bregazzi admitted assault and criminal damage and was brought from custody at Thameside men's jail to be sentenced.
The defendant was also dealt with for breaching her suspended sentence.
Mitigating, James Kelly described her as a "very damaged individual who is in emotional pain" and has a "problem with people in uniform".
He said transitioning from one sex to another was "difficult enough" without having to deal with others' attitudes.
Mr Kelly told the court that Bregazzi, who has 64 previous convictions, was due to be transferred to Belmarsh Prison.
Judge Poulet activated the suspended sentence and added four more months in prison for the assaults.
The defendant was also given eight weeks for criminal damage to run concurrently.