Bishopsgate bomb: Photos issued on 25th anniversary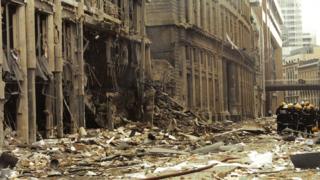 Rarely seen images of the destruction caused by a bomb detonated by the IRA in the City of London in 1993 have been released by police.
The crime scene photos of the damage caused by the Bishopsgate bomb were issued by City of London Police to mark the 25th anniversary of the blast.
The bomb, planted in a stolen truck, exploded outside 99 Bishopsgate by the junction with Wormwood Street on 24 April 1993.
It killed one person and injured 44.
PC Richard Fullbrook, who was on duty in the area when the truck exploded, described the scene as "total devastation".
"There was this huge plume of water coming out everywhere and the St Ethelburga's Church was just rubble."
PC Joanne Richardson was injured when she was thrown into a doorway by the force of the blast.
"I was off work for 3-4 weeks but it's the emotional and psychological effects that stay with you for a lot longer," she said.
Experts have described the Bishopsgate bomb as a "turning point" in how security was dealt with in the capital, with new efforts made to detect and deter terrorists.
A "ring of steel" was set up by City of London Police in July 1993 with most routes into the City being closed or made exit-only.
The remaining roads were manned 24 hours a day by police officers.
The force's current head of counter-terrorism said the bomb "changed the face of policing".
"It's remarkable to see how we've come full-circle with our tactics and how decisions made in the 1990s are reflected in some of our most successful initiatives today," Det Supt Dermot Robinson said.