Met Police officer 'raped girl, 16, on date' in Romford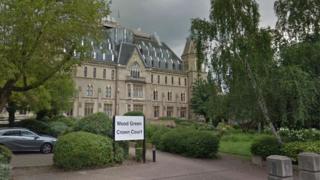 A Met Police officer raped a 16-year-old girl twice while on a "hellish" date, a court has heard.
PC Adam Provan, 38, forced himself on the student before taking her to a fast-food outlet in east London to buy a milkshake, a jury heard.
The girl's father had allowed the date to go ahead because he was "reassured" that Mr Provan was a serving police officer, Wood Green Crown Court heard.
Mr Provan from Kirtling, near Newmarket in Suffolk, denies two counts of rape.
'Groomed for days'
The pair met after being introduced by a mutual friend in summer 2010 and kept in touch before deciding to go on a date, the jury heard.
Mr Provan, who has been suspended from his job in Barking and Dagenham, allegedly told the girl he was 22 years old.
Prosecutors said the teenager, who had just taken her GCSE exams, believed Mr Provan had "groomed her for several days, exchanging messages and photographs".
Anthony Metzer QC said the girl asked the officer to meet her father before the date, which he did.
The jury was told Mr Provan drove for 15 to 20 minutes to some woods where the first rape is alleged to have happened.
'Empty and numb'
It is claimed Mr Provan then took the girl to a fast-food outlet after the first rape, where he looked up film plots on his mobile phone.
Mr Metzer said this was "essentially rehearsing a story which could be sold back" to her father, because they were supposed to have gone to the cinema.
Later in the evening Mr Provan took her for another walk, this time to a bench on a hill, and insisted on another sex act, it was claimed.
The girl felt "too guilty" to initially report the alleged incidents to police.
After being charged, Mr Provan told the officers: "I have never ever hurt anybody of a sexual nature in my life."
Giving evidence from behind a screen, the alleged victim described feeling "empty and numb" after the first rape.
The trial continues.