'Record number' of affordable homes built, says London mayor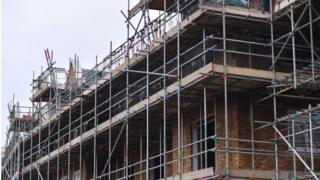 A "record number" of affordable new homes are being built in the capital, the Mayor of London has announced.
Work began on 12,500 "affordable" properties in 2017/18 - the highest number since the mayor took over responsibility for housing in 2012.
A total of 6,800 properties were completed up to March 2018.
The Conservatives accused Sadiq Khan of "miraculously" doubling the number of new affordable homes being built ahead of the local elections.
Between February and March the number starts on building sites for affordable homes increased from 6,725 to 12,526.
City Hall said the increase was due to starts being registered at the end of the financial year for "administrative reasons".
Affordable homes include schemes such as social rent, affordable rent, shared ownership and the Labour mayor's new London living rent programme.
Conservative London Assembly member Andrew Boff said: "It's quite miraculous.
"The mayor has managed to find a staggering 6,000 homes starts in the final month to almost double his total for the entire year - and all weeks before an election.
"Even if he were to continue at the rate of 6,000 a month he will still fall short of the 80,000 he promised before his election."
Liberal Democrat assembly member Caroline Pidgeon said: "Any improvements in the start of new affordable housing is welcome but making comparisons with the years of delivery under Boris Johnson is setting a far too low benchmark.
Mr Khan said London needed "more than 50,000 new homes a year" in his manifesto. He has since promised to build 116,000 affordable homes by 2022.
Announcing the new figures, Mr Khan said: "I grew up on a council estate and having a genuinely affordable home meant I got the opportunities I needed to fulfil my potential."