Residents consider class action over Grenfell-style cladding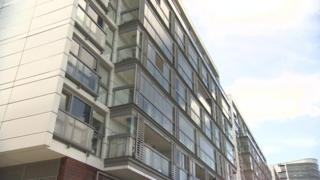 Residents of privately-owned London buildings that have been fitted with Grenfell-style cladding are considering legal action against the developers.
Leaseholders say they live in "constant anxiety" over their safety at New Capital Quay, Greenwich, London, since the disaster in which 71 people died.
Fire wardens are on watch 24 hours a day after similar cladding was found.
Developers Galliard Homes say the cladding was certified as compliant with building regulations at the time.
Home owners Nigel Pickford and Annabel Parsons are part of a group of up to six people obtaining legal advice on a class action case against Gilliard Homes and also potentially insurers NHBC in the event that they wrongly deny cover.
Cladding similar to that used on Grenfell tower was discovered on the luxury waterfront development soon after the fire last July.
The claims would likely be based on breach of contract under which reasonable care and proper materials should have been guaranteed, breach of building regulations, under which dwellings should be fit for habitation.
"There is a question mark that a building requiring 24-hour safety watch is fit for habitation," advising solicitor Chris Haan said, adding that the case will also look at whether, even if the cladding met building regulations, it is was reasonably fit for purpose and of good quality.
Mr Pickford said damages could be sought for "inability to sell and distress caused".
Ms Parsons said she believes at least 200 residents could be mobilised for a class action case.
"I'm absolutely furious," she said, adding that the government should "step in and take action" to ensure buildings are safe".
Residents also say their properties have plummeted in value as they are locked in the dispute.
Cecile Langevin told the Guardian newspaper that she bought her flat for £475,000, but a Rics-approved surveyor recently valued it at £50,000.
Gilliard Homes said it paid a £1m premium for a 10-year insurance policy.
Insurers NHBC said it received a claim in respect of cladding but was currently determining its validity and establishing building regulations were complied with.
Though NHBC also acted as approved inspector - assisting Galliard Homes and its subsidiaries "in achieving compliance with" building regulations and guidance throughout the building process, it says the legal responsibility for ensuring New Capital Quay complies with building regulations falls on Galliard Homes.
The Ministry of Housing, Communities and Local Government said it wants to "see private sector landlords follow the lead of the social sector and not pass on the costs of essential cladding replacement to leaseholders".