London violence: Forest Gate teenager stabbed to death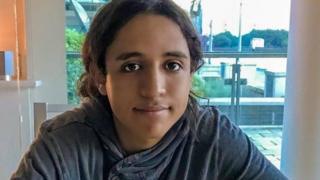 A teenager has been stabbed to death in east London.
Sami Sidhom, 18, was found injured in Chestnut Avenue, Forest Gate, on Monday night. He died at the scene at about 23:30 BST.
One resident said she and neighbours used a towel to try to stem the flow of blood from his wound, but there was "so much" they could not save him.
Next of kin have been informed, and formal identification and a post-mortem examination are due to take place.
No arrests have been made.
The teenager's death comes after two people died from stab wounds in London on Sunday. Almost 40 people have been stabbed to death in the capital this year.
A woman who lives on Chestnut Avenue said she was woken up by a scream.
"I looked down and saw four men attacking someone on the ground," said the woman, who asked not to be named.
"I shouted 'get off him' out of the window to try and make them stop, and they jumped into two different cars and sped off down Avenue Road.
"The boy on the ground was screaming but by the time I got to him he had run down the street, probably 100 yards, and he collapsed on the ground."
She said the Mr Sidhom was still conscious at that point but he was losing blood quickly.
"I used my child's towel to try and stem the flow. It's still there now," she added.
"Everyone came out and tried to help him, but there was so much blood. There was nothing we could do."
Another resident, who did not want to be named, said he saw a man stab the teenager in the back before fleeing the scene in a silver car.
London Mayor Sadiq Khan said his "heart goes out" to Mr Sidhom's friends and family.
He added his team were "relentlessly focusing" on how to prevent knife crime.
Earlier this month, Mr Khan said he "did not accept that the police have lost control of crime in London".
Seyi Akiwowo, a councillor for Forest Gate, said tweeted that the latest death made her "want to yell at politicians! 'You're not doing enough!'"
Rachel Tripp, another Newham councillor, added the death was "unspeakably tragic".
The Met Police said paramedics from London Ambulance Service and London's Air Ambulance were sent to the scene.
A cordon remains in place at the scene as investigations continue.
Murder detectives have asked for witnesses or anyone with information to come forward.
Det Insp John Marriott said: "It doesn't matter how big or small you think your information may be - it could be the piece of the puzzle that helps bring the person that killed a young man to justice."