Stephen Lawrence murder investigation 'unlikely to progress'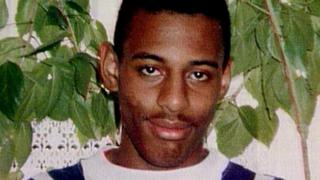 The investigation into the murder of Stephen Lawrence is "unlikely to progress further" without new information, police have said.
Mr Lawrence, 18, was killed in a racially-motivated attack in Eltham, south-east London on 22 April 1993.
The Met said despite rigorous efforts, its inquiry was "unlikely to progress."
Two men were jailed for his murder in 2012 and Mr Lawrence's mother previously called for the police to "be honest" about any further convictions.
Doreen Lawrence told the Daily Mail she believed detectives had run out of lines of inquiry but were worried about her reaction if they closed the case.
"Despite previous public appeals, rigorous pursuit of all remaining lines of enquiry, numerous reviews and every possible advance in forensic techniques, the Met investigation team is now at a stage where without new information the investigation is unlikely to progress further", the Met said.
"This was explained to the family earlier this year."
In 2012, Gary Dobson and David Norris were found guilty of Mr Lawrence's murder and jailed for life.
Stephen's father Neville Lawrence told BBC News he would accept the inquiry being scaled back but believed it should not be completely closed.
"Something should be left in case of something coming in so they can reopen it if that's the case," he said.
Dr Lawrence added that he remained hopeful that, with the publicity around the 25th anniversary of his son's death and a BBC documentary to be shown over three nights next week, Stephen: The Murder That Changed A Nation, someone would come forward.
"The threat of anything happening to them now isn't as great as it was in the early days... It would be nice if we could have absolutely full justice."
Senior investigator Chris Le Pere said: "With the approaching anniversary and airing of the documentary... there is still the opportunity for someone who knows what happened that night, to have a conscience and come forward.
"I would say to you, it is never too late to do the right thing."