Abortion clinic safe zone imposed by Ealing Council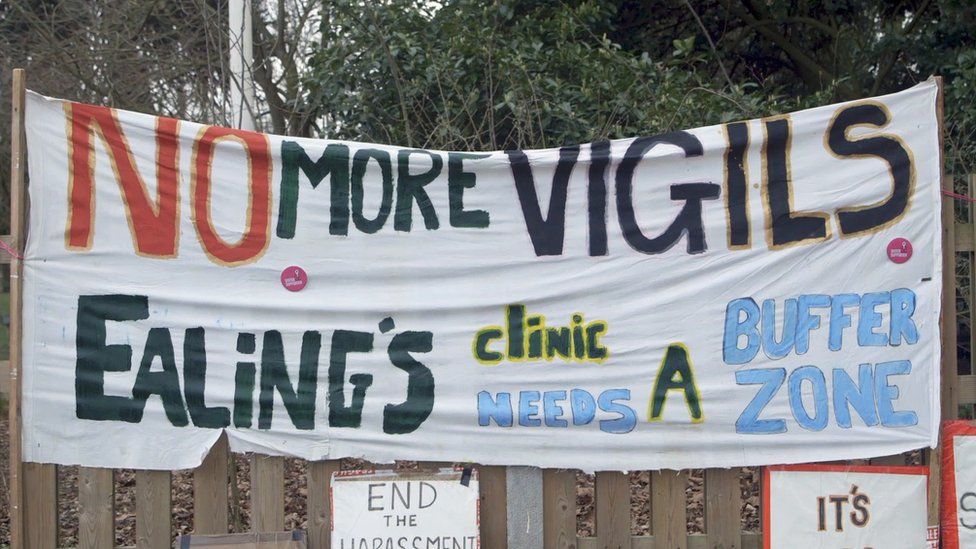 A buffer zone will be created at a west London abortion clinic to stop vigils being held outside the building.
Ealing councillors unanimously voted to implement a safe zone around the Marie Stopes clinic after women complained of intimidation by protesters.
The Good Counsel Network, which holds daily vigils outside the centre in Mattock Lane, denies harassing women.
The decision means both anti-abortion and pro-choice campaigners cannot stand within 100 metres of the clinic.
Applause in broke out in the Ealing council cabinet room following the decision, but a protestor then interrupted the meeting and accused the council of taking away their rights.
Richard Bentley, Marie Stopes UK managing director, said: "This is a landmark decision for women.
"This was never about protest. It was about small groups of strangers choosing to gather by our entrance gates where they could harass and intimidate women and try to prevent them from accessing healthcare to which they are legally entitled."
Rival campaigners gathered outside the council building while the vote was taken.
More than 300 people wrote to the council describing the pro-life protesters as "intimidating and harassing", while those against abortion have said women are not being offered enough alternatives.
A report presented to the council cabinet concluded that, following unsuccessful attempts to negotiate an informal "safe zone" near the clinic entrance, a public spaces protection order was appropriate.
The report also states the "continued deployment of policing resources" outside the clinic was an "unusual and unnecessary use of local policing resources that could be deployed elsewhere".
The decision could pave the way for other councils to follow suit.
Elizabeth Howard, a spokeswoman for Be Here for Me, said: "It's what we expected, after really what can only be described as a sham consultation by the council.
"We're here to support women who maybe feel they don't have any other choice than abortion and don't want an abortion."
Council leader Julian Bell said he felt the cabinet had done "absolutely" the right thing.
He said: "I believe that this is something that's long been needed, so it feels good that we are actually breaking the ground with this and leading the way.
"I'm personally a practising Christian myself and so I think it's important to recognise that this is about protecting women from harassment and intimidation."
Related Internet Links
The BBC is not responsible for the content of external sites.