Hackney murder victim Abraham Badru was bravery award winner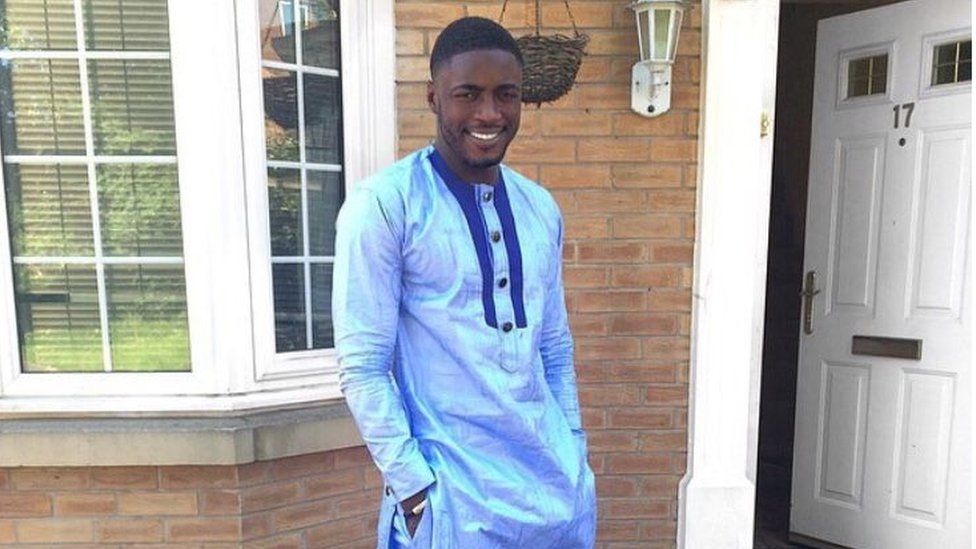 A man shot dead "without warning" won a national bravery award as a teenager for stopping a rapist, it has emerged.
Abraham Badru, 26, who was murdered in Dalston, east London, on Sunday, was awarded the National Police Bravery Award in July 2009.
Metropolitan Police Ch Supt Noel McHugh said Mr Badru's intervention in the rape and then giving evidence in court showed "such courage".
No-one has yet been arrested in connection with his murder.
Mr Badru, who had two sports science degrees, was described by his family as kind, bold and a "beautiful soul" who "hated confrontation" and had "never been involved" in fights.
Mr McHugh said the award showed "such courage and an overwhelming sense of what was right and wrong clearly demonstrated his strength of character".
Mr Badru was attacked after he parked his black Mercedes in Ferncliff Road, near an alleyway leading to Langford Close and Foxley Close.
He was approached by one or more suspects as he opened his car boot before being shot in the chest.
Emergency services were called at about 23:00 GMT but Mr Badru died at the scene.
In a statement released to police, his family described him as the "best son any parent could ever pray to have [...], humble, conscientious, respectful, kind and exuberated love and confidence".
Mr Badru attained a BSc in sport science and an MSc professional practice in sports coaching at the University of Gloucestershire, and had been hoping to get a PhD.
He had a "zest for life, was passionate about football and fashion and enjoyed travelling, exploring and experiencing different cultures," his family said, describing him as generous, sociable and an "upstanding individual who advocated unity and peace in his community".
His family said they were "beyond heartbroken and filled with emptiness".
"You were such a beautiful soul. All you ever wanted was just to live that beautiful life just like every normal person which you did. You will always be loved. Forever in our heads," the statement reads.
Related Internet Links
The BBC is not responsible for the content of external sites.