Latest Trafalgar Square Fourth plinth artwork unveiled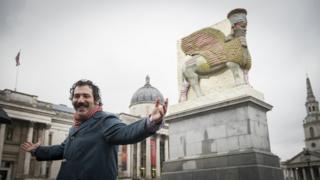 A recreation of a sculpture destroyed by the Islamic State group is the latest artwork to be unveiled on the Fourth plinth.
The Invisible Enemy Should Not Exist, by New York artist Michael Rakowitz, is a replica of Lamassu, which was destroyed in 2005.
London's Mayor Sadiq Khan unveiled the creation, which is made out of 10,500 tins of Iraqi date syrup.
It is the 12th sculpture to occupy the plinth, in Trafalgar Square.
The original Lamassu, a winged bull and protective god, stood at the entrance to the Nergal Gate of Nineveh from 700BC.
It was destroyed, along with other artefacts in the Mosul Museum, in 2015.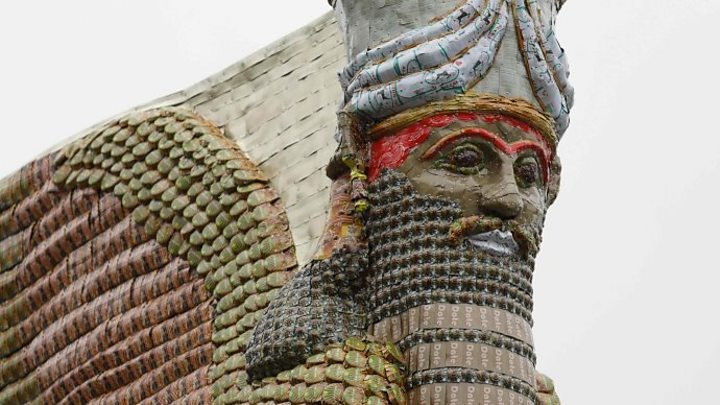 Mr Rakowitz, who has Iraqi ancestors, is attempting to recreate more than 7,000 antiques looted from the country.
He described his latest work as a "ghost of the original".
Mr Rakowitz said: "This work is unveiled in Trafalgar Square at a time when we are witnessing a massive migration of people fleeing Iraq and Syria.
"I see this work as a ghost of the original, and as a placeholder for those human lives that cannot be reconstructed, that are still searching for sanctuary."
Mr Khan said: "I am delighted to unveil this new work by Michael Rakowitz, the next sculpture to be featured on the Fourth plinth. Michael's work shows the power of art to bring to life politics, cultures and personal stories from around the world and across generations."
Ekow Eshun, chair of the Fourth plinth Commissioning Group, said: "Michael Rakowitz has created a powerful, timely artwork that reaches back through history to offer pertinent commentary on the world today.
"I'm sure it will become a new landmark for London.
"Michael was chosen from the most international shortlist for the Fourth plinth to date, demonstrating our commitment to bringing the work of leading national and international artists to London."
The work will stay on display until 2020, when a sculpture of a whirl of cream topped with parasites, by British artist Heather Phillipson, will take its place.