DLR 48-hour strike hits thousands of passengers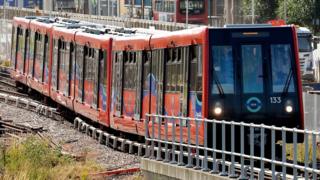 Thousands of passengers have been affected by a 48-hour strike on London's Docklands Light Railway (DLR).
A limited service is operating between Beckton and Poplar, and Canning Town and London City Airport following the walk-out which started at 04:00 BST.
RMT union members are taking action after talks over workplace justice with KeolisAmey Docklands Ltd (KAD), which operates the DLR, broke down.
KAD said the strike was "very disappointing".
'Disruption for passengers'
Services are expected to run until 16:00 and between 07:00 and 16:00 on Thursday.
London Underground lines and stations are expected to be busier than usual.
Passengers took to social media to voice their frustration at the disruption to their commute.
Others resorted to early morning walks or working from home.
RMT general secretary Mick Cash said: "RMT members employed by KAD have had enough of being treated like dirt.
"This dispute is over the fundamental issues of workplace justice, fairness, the outsourcing of key functions and sticking to agreements and practices that Keolis seem to believe that they can trample all over."
KAD said it was "frustrated that the RMT union refused to genuinely negotiate".
Managing director Abdellah Chajai said: "It is very disappointing to find the RMT union refusing to work with us to avert the strike action they have planned.
"Despite our best efforts to resolve the issues the union had raised, they have instead chosen to proceed with the strike and cause unnecessary disruption for our passengers."
Mark Davis, Transport for London's interim general manager of the DLR, said: "We have worked hard to plan and provide as much of a service as possible this morning."
Extra buses are operating on key routes along the DLR network, which is used by an average of 350,000 people per day.
A second phase of action is planned to coincide with the London Marathon next month.