London father cleared over FGM offences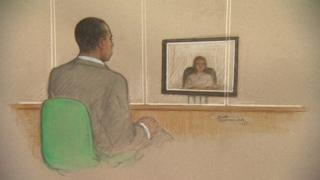 A father has been found not guilty of organising for his nine-year-old daughter to undergo female genital mutilation (FGM) to punish her.
The 50-year-old man, of south London, had been accused of twice arranging for someone to cut the girl with a razor as she lay on a mat in the hallway.
He was also acquitted of five other charges at the Old Bailey, including child cruelty and wounding with intent.
The man, originally from West Africa, had denied all of the accusations.
The case is only the second FGM prosecution brought to court in the UK, both of which led to acquittals.
During the trial, jurors were told the child could not recall the identity of the person who allegedly subjected her to the ordeal twice between 2010 and 2013.
The girl said she cried in pain and begged for it to stop but her father just encouraged the cutter, the court heard.
The allegations came to light after the girl told a friend, whose mother contacted Childline.
The prosecution told the jury the FGM did not happen for cultural or family reasons, but as a punishment.
However, Kate Bex QC, defending the father, suggested FGM was "predominantly perpetrated by female cutters on women" for reasons including "purification, honour and social acceptance".
Giving evidence, the defendant said the allegations were fabrications arising from the acrimonious breakdown of his marriage.
"I need to know who cut my daughter. It's not me," he told the jury.
"I don't know who cut my daughter. I didn't organise it. I was not part of it."
During his evidence, the defendant described allegations by his daughter that he hit her with a cane and threatened her with an iron as the "height of fabrication".
He said his wife had repeatedly threatened to destroy him during their marriage and had turned his children against him.
The children's former nanny told the court the defendant adored his children, and said she had never seen any ill-treatment.
Jurors deliberated for more than six hours to find the man, who cannot be named for legal reasons, not guilty of all seven charges against him.
Leethen Bartholomew, head of the National FGM Centre, said: "While we respect the decision of the jury it is important to remember that someone did carry out female genital mutilation on the victim almost a decade ago.
"The effects of FGM have a lifelong impact on survivors both physically and psychologically, so it is vital support is in place for her for as long as she needs it."