Call to re-open inquest into knee death after surgery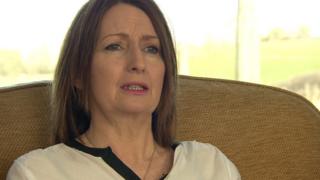 The daughter of a man who died in a private London hospital after a routine knee operation has called for an inquest to be re-opened.
James Hughes died in February 2010 but the inquest into his death was halted while his surgeon David Sellu faced charges of manslaughter.
Mr Sellu was found guilty and served 15-months in jail before his conviction was later quashed on appeal.
The Harrow hospital said it would collaborate on an inquest.
Maggie Hughes said there are still many questions to answer about the death of her father.
"We don't want retribution, we just want the truth," she told BBC London.
She is now preparing a letter to the coroner with the support of medical negligence lawyers.
Mr Hughes, 66, a father-of-six, flew to Clementine Churchill Hospital in Harrow, north London, from his home in Northern Ireland for the surgery, which he hoped would enable him to play more golf in his retirement.
During his recovery, he developed acute stomach pains and was later operated on for a perforated bowel.
But he never regained consciousness and died of multiple organ failure.
The inquest into his death was halted and the matter passed to police in October 2010.
Mr Sellu faced accusations that he caused Mr Hughes's death by failing to identify what was wrong with him and carry out the second operation sooner.
The General Medical Council pursued disciplinary action against the colorectal specialist but earlier this month he was cleared of 11 counts of alleged misconduct.
Ms Hughes applied for the inquest to be re-opened in January 2017 but said senior coroner Andrew Walker told her a decision would depend on new evidence emerging.
The BBC understands the coroner saw no merit in resuming the inquest due to all the evidence heard during Mr Sellu's trial and appeal.
Under the Coroners and Justice Act, it is down to the coroner's discretion if an inquest should resume following the conclusion of criminal proceedings.
Ms Hughes said she finds it hard to accept the findings because she believes the surgeon should have acted more urgently.
She said her father would have been better off "on the street" than at the hospital.
His widow Anne said: "I am just left bewildered. We have nowhere to turn anymore. I just want to know: why did he die?"
Mr Sellu said he welcomed re-opening the inquest.
He said he has "always felt that the coroner's inquest should have been re-opened, as so many questions remain unanswered", but added: "I have now been cleared of any wrongdoing in both a criminal court and a civil jurisdiction."
Clementine Churchill hospital said the case was examined by a number of agencies but said any number of inquiries "will never outweigh the loss of a much-loved husband, father and friend".