TfL says Emirates Air Line sell-off claims are 'not true'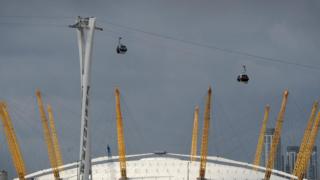 Transport for London (TfL) has dismissed reports it plans to "sell-off" the Emirates Air Line cable car.
It follows an Evening Standard interview in which transport commissioner Mike Brown also hinted at "phasing-out" the so-called "Boris bikes".
Mr Brown was quoted as saying TfL would "absolutely" be prepared to sell the cable car, which spans the Thames and links Greenwich with the Royal Docks.
However, TfL said this "was not true".
A spokesman added: "We expect the Emirates Air Line to continue to cover operating costs and contribute towards its original construction costs over the next five years.
"In the longer term we remain open to all options."
Built in time for the 2012 Olympics, Emirates signed a £36m sponsorship contract which is due to expire in 2021.