Grenfell Tower doors 'resisted fire for half the time expected'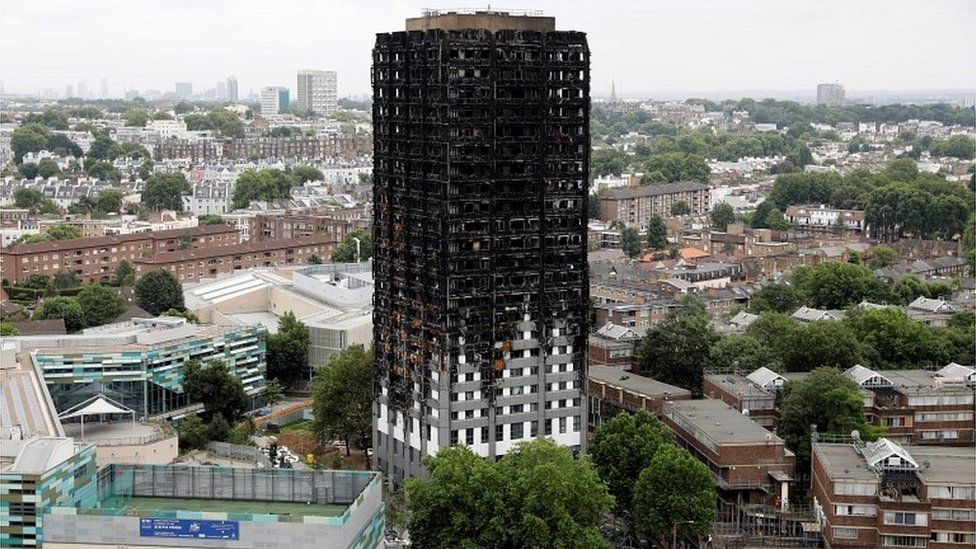 Doors for flats in Grenfell Tower could only hold back a fire for half the time they were designed to, a police investigation has found.
Experts said a door was supposed to resist fire for 30 minutes, but only lasted 15 minutes in tests.
The test was part of a Met Police probe into the fire in west London which killed 71 people last June.
Housing Secretary Sajid Javid said the risk to public safety in buildings with the same doors remains low.
Speaking in the House of Commons, he said that further tests would be carried out on the doors and that there was "no evidence that this is a systemic issue".
Shadow housing minister Tony Lloyd told MPs he was "astounded" by Mr Javid's claim and added: "If this isn't systemic, what assessment has been made of how many buildings are potentially affected by this, how many individual flats, how many people who have fire doors that simply don't do the job?"
Natasha Elcock, a survivor from the tower and a representative of the bereaved and survivors' group Grenfell United, said it is "time people's lives are taken more seriously and that includes everyone from every walk of life".
She added: "It's shocking - first the cladding and insulation, then the doors. Who knows what else is putting people's lives at risk?
"The government should have improved regulations after previous fires."
Manse Masterdor is believed to have been the manufacturer of Grenfell Tower's fire doors, which were installed between 2011 and 2012.
Since then, the company's trade and operating assets were taken over by Synseal - which continues to trade under the name Masterdor.
On Thursday, Synseal said it "never had any involvement with Grenfell Tower" and that the products in question were no longer being sold.
A spokesman added the company was co-operating with the police investigation.
Kensington and Chelsea Council confirmed three doors were tested and provided "less protection than guidelines recommend", but said test results are "as yet inconclusive".
A spokesperson said the government must give "clear advice" so that residents across the country can understand any safety implications.
The Met said the forensic examination and testing phase is ongoing so it did not want to comment on the potential impact "any test result may have on the overall criminal investigation".
But the force shared the information with the Ministry of Housing, Communities and Local Government because of concerns it might have "wider implications for public safety", Mr Javid told the House of Commons on Thursday.
He added: "Conclusions should not be taken about the nature of the cause of the Grenfell tragedy. That is a matter for a separate police investigation and it must be allowed to run its course."
Labour MP Helen Hayes told the House of Commons that unless the government acted fast on mitigating the risks "revealed as a consequence of Grenfell", it was "simply meting out further injustice to leaseholders, who will face very large bills, and tenants, who will see much-needed major works pushed back".
Mr Javid said the government had "made it very clear" that it would provide local authorities with "financial flexibilities".
A spokesman for the Ministry of Housing, Communities and Local Government told the BBC that the government was "working with councils across the country and private landlords" to establish how many other sites are affected.
Roy Wilsher, chair of the National Fire Chiefs Council, said he is "confident" the government is "taking the right steps" by doing rigorous testing and seeking independent and technical expertise.
Related Internet Links
The BBC is not responsible for the content of external sites.