Great Portland Street squatters ordered to leave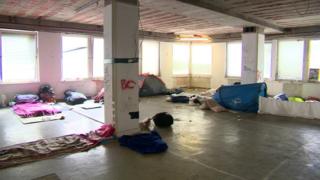 Activists who took over a building in central London to help house, feed and support homeless people have been told they must leave.
The four-storey building in Great Portland Street was taken over by the group and renamed the Sofia Solidarity Centre to use as a shelter.
Volunteers say the building has been empty for 15 years and has become home to about 150 people.
But a judge backed an eviction order and said the building must be emptied.
Steve Broe, a volunteer at the building, said the shelter had saved lives and had become "not just a place for people to sleep and eat but to find themselves back in their true selves".
"If you end up on the street it's very hard to back from there. It's a very, very tough environment," he said.
He added that the prospect of residents having to leave was "very, very concerning", especially with temperatures set to fall in the coming days.
Auga, who has been at the centre for the past two nights, described it as being "like a medicine".
"It's like everyone is helping together... it's not good if we have to leave," he said.
However, local residents have said they have seen people urinating outside the building and are worried about drunkenness and aggressive behaviour.
The judge agreed with landlord of the building that those staying in the shelter had no right to be there and granted a possession order.