Residents ordered to foot £2m 'Grenfell' cladding bill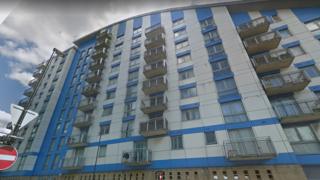 A bill of up to £2m to replace Grenfell-style cladding on a Croydon housing block should be paid by its residents, a tribunal has ruled.
Citiscape in Croydon was one of 228 buildings to fail safety tests after the disaster which claimed 71 lives.
Leaseholders argued that the building's management company, FirstPort, should pay to remove the aluminium composite material panels.
A spokesman for FirstPort said they would "work to minimise" the cost.
Despite the ruling, resident Anuj Vats said it is still unclear when the cladding will be removed.
He said: "The property manager has made it clear they won't start any work until they have all the money in their reserve funds. So we are stuck with increasing costs of fire marshals and no date of these works actually starting.
"Every individual has a different financial situation, but the cost for my one-bedroom flat that I own would be around £15,000 or £16,000.
"Suddenly I've got this huge bill."
A spokesman for FirstPort said it was a "difficult situation" for everyone involved, but the firm would "work to minimise" the costs of recladding.
He said: "We brought this case before the Tribunal not in conflict with residents, but to receive an independent judgment on the most appropriate way to ensure their safety in the long term.
"We will continue to work with all parties to provide further assistance to residents, but we must begin these essential safety works.
"If Government plans to offer any meaningful support to affected leaseholders, we urge it to do so."