Melody Driscoll: Croydon Council bid for wardship fails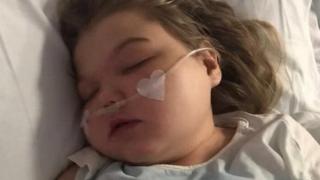 A seriously ill child at the centre of a row over her medical treatment will remain in her parents' care for now, a High Court judge has ruled.
Croydon Council failed to win wardship of 11-year-old Melody Driscoll, who has an incurable and life-limiting condition.
Mr Justice Holman requested the parents mediate with doctors and the council in the hope of resolving the dispute.
Restrictions on reporting the case were lifted after a challenge by the BBC.
Melody's mother and father, Karina Driscoll, 35, and Nigel Driscoll, 46, were left distraught after being taken to court despite previously being told by the council legal proceedings would be dropped.
Melody, who has Rett Syndrome, had been treated at Great Ormond Street Hospital (GOSH) but became a patient at King's College Hospital (KCH) in July last year.
Doctors at KCH intended to wean Melody off painkillers but her parents, from New Addington, Croydon, objected because the plan contravened the treatment she had previously been given.
In December, social workers from Croydon Council intervened by threatening to have Melody put in foster care - citing that her parents were "obstructing her care".
A month later the council announced a U-turn in its plans and apologised to the family.
Then, on 13 March, the family was told to appear at the High Court after Croydon Council lodged wardship proceedings.
It meant Melody risked being made a ward of the court - meaning all decisions over her medical care in the future would have had to go through the courts rather than her family.
The application automatically triggered an anonymity order prohibiting the identification of Melody or her parents.
Speaking ahead of the initial hearing in March, Mrs Driscoll told the BBC: "Parents are meant to do anything to protect their children. All I have ever tried to do is protect her."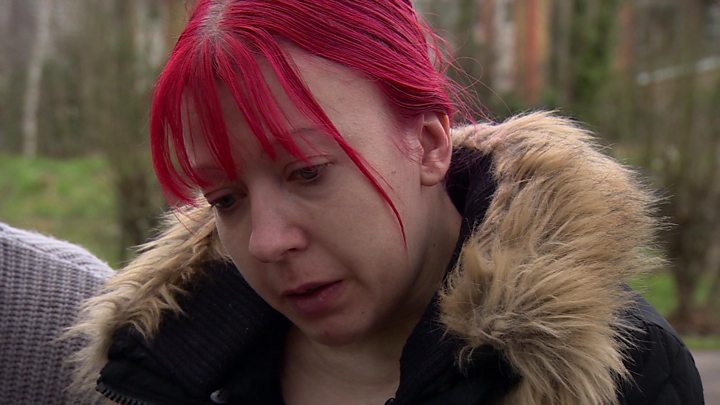 The family enlisted the help of Charles Da Silva - the same lawyer who represented Charlie Gard's parents during their court battle to prolong the life of their baby son.
However, following a legal challenge by the BBC at the High Court on 13 April, Mr Justice Holman lifted the gagging order and agreed for Melody to be named.
The wardship application was not completely dismissed, as the judge gave the family, Croydon Council, KCH and Epsom Hospital (where Melody was moved to at the end of March) until 8 June to resolve the dispute without the help of the court.
'In limbo'
Mrs Driscoll insists she "wants to work together," but fears any prospect of having to return to court.
She said: "Of course I would have preferred to have the whole wardship dropped, because it still feels as if we are in limbo.
"Any applicant [KCH, Croydon Council or Epsom Hospital] at any time can request to go back to court and it just feels like we are on eggshells.
"There is also the stress of the rising legal bills, we never wanted any of this and I will work with any doctor in order to resolve this."
Croydon Council said "it does not comment on individual cases".
A spokeswoman added: "We will always seek to work with parents and hear the views of the child and the family."
KCH has been approached for a comment.