'Traffic-free' Oxford Street consultation backed by public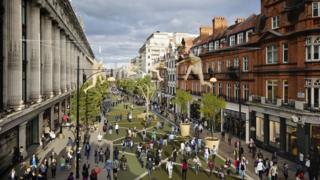 Large parts of London's Oxford Street could be pedestrianised by December after proposals were backed in a consultation.
About half a mile of the street would become a "traffic-free pedestrian boulevard" under the plans.
The project is due to tie in with the opening of the new Elizabeth Tube line.
Val Shawcross, deputy mayor for transport, said the plans would create "one of the finest public spaces and shopping streets in the world".
A final decision is due to be made in the coming months by Transport for London (TfL) and Westminster City Council.
Councillor Daniel Astaire, of Westminster Council, said: "We now need to take our time to look in detail at every issue raised before we take any final decision to make sure we get it right."
Around a million people were directly contacted for the public consultation between 6 November 2017 and 3 January 2018, asking if they supported the proposals.
Transport for London and Westminster City Council received 14,377 responses, with just over 9,000 - about 64% - either supporting the project outright or backing the plans with "some concerns about certain elements".
An earlier initial consultation in spring 2017, which saw 62% of the 12,000 responses supporting the principles behind the transformation of Oxford Street.
The proposals include:
Pedestrianising a section of Oxford Street from Orchard Street to Oxford Circus
Raising the roads to pavement level to improve accessibility
An 800m-long work of public art could be commissioned
New and extended taxi ranks would be created close to Oxford Street
Taxis would also still be able to cross Oxford Street at Duke Street, Stratford Place, Vere Street and Harewood Place