Man jailed for 21 years after stabbing 'friend'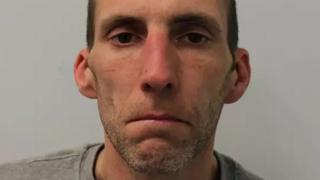 A man has been jailed for 21 years for killing a man he claimed was a friend on the top deck of a London night bus.
Archie Sheppard was stabbed in his sleep by John Doherty on the 189 bus as it travelled from Brent Cross to Marble Arch in the early hours of 28 April.
Mr Sheppard, 48, was pronounced dead after he was discovered upstairs on the bus in Gloucester Place.
Doherty, 39, of Fulham, pleaded guilty to murder on the opening day of his trial at the Old Bailey.
On Friday, he was was sentenced to 21 year and 8 months' imprisonment, Scotland Yard said.
Doherty had claimed Mr Sheppard was a friend and that the pair would occasionally drink together, although the Met Police said the claim was never substantiated.
On the day of the murder the pair had taken several bus journeys together before finally boarding a route 189 bus at Brent Cross at around 23:15.
After Mr Sheppard fell asleep on the empty bus, Doherty produced a knife and launched a "sustained and unprovoked" attack, before fleeing on a second bus.
A post-mortem examination revealed he had died from blood loss as a result of damage to the femoral artery in his left leg.
Odette Mbah, Mr Sheppard's widow, said in a statement: "I will always miss Archie desperately, but I can take some relief that the man responsible has finally admitted to what he has done.
"I will always wonder exactly why he did what he did and I now have to prepare myself for the fact that we may never find out the reason that he killed Archie."