Man sentenced for street attack on Hackney woman, 92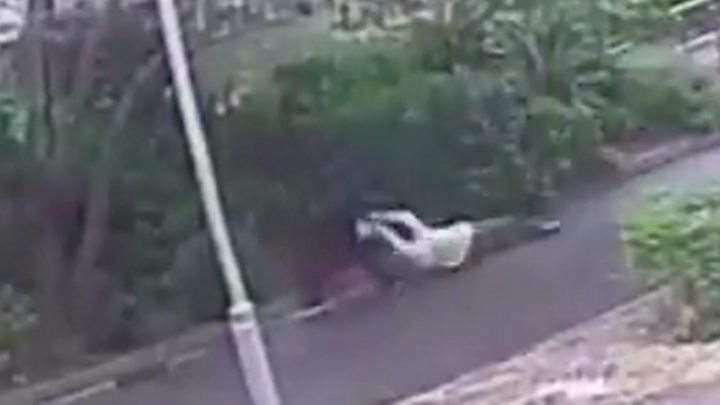 A man who dragged a 92-year-old woman along the ground while she clung to her handbag as he tried to steal it has been handed a six-year jail sentence.
Footage of Sanchez Edwards carrying out the robbery in Hoxton Street, Hackney, on 27 June was widely shared online.
Edwards, 28, who has paranoid schizophrenia, admitted robbery at Wood Green Crown Court in August.
A Mental Health Act order means Edwards will not be sent to jail until doctors release him from hospital.
Edwards, of no fixed address, followed the woman after she left her house to post a letter.
When he tried to snatch her handbag, which contained a £50 mobile phone, £100 in cash and a travel pass, she screamed and clung on.
Recurring nightmares
Sanchez dragged her along the ground until she was in so much pain she was forced to let go.
The victim was left with cracked ribs and suffered extensive bruising on her ribs, legs and side.
In an impact statement, the woman said she has become a shadow of her former self.
She was too afraid to leave her house after the incident and lost her independence.
She has recurring nightmares and still cannot sleep on her left side due to the pain, she said.
Edwards, who has a history of drug use, had been a patient at the John Howard Centre - a medium-secure psychiatric facility in Hackney - but absconded on 17 May.
He was handed a jail sentence of five years and eight months, as well as an extra three years on licence.
Judge Joanna Greenberg QC also imposed a "hybrid" order under section 45 of the Mental Health Act, which means Edwards will serve the first part of his sentence under supervision in hospital.
There were also aggravating factors of three previous robbery convictions, police said.