David Sellu cleared of misconduct after patient death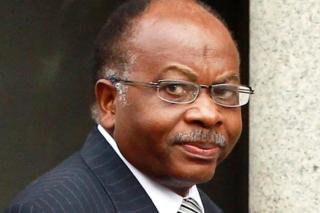 A surgeon who had his manslaughter conviction quashed has been cleared of misconduct allegations.
David Sellu, 70, served 15 months of a two-and-a-half-year prison term for killing father-of-six James Hughes in 2010, before the conviction was overturned on appeal.
But the General Medical Council (GMC) said the doctor let vital time "slip by" while treating Mr Hughes at a hospital in north London.
A tribunal cleared Mr Sellu on Tuesday.
Retired builder Mr Hughes, 66, came under Mr Sellu's care at the private Clementine Churchill Hospital in Harrow when he became ill after a routine knee replacement carried out by another doctor.
After delays to surgery, Mr Sellu operated on Mr Hughes to repair a perforated bowel on 12 February.
Mr Hughes died two days later.
Paul Williams, for the GMC, told the Medical Practitioners Tribunal Service (MPTS) hearing that Mr Sellu was not being criticised for his diagnosis or surgery, but that it was the "timescale in between" that was being questioned.
The tribunal decided Mr Sellu did not have a duty to perform surgery on February 11 when it was first suspected Mr Hughes had a perforated bowel.
The tribunal said it was satisfied that when he received the results of a CT scan the next day he made proactive steps to perform urgent surgery.
It also found there was no evidence that Mr Hughes showed significant signs of deterioration over the afternoon before Mr Sellu operated.
A GMC spokesman said: "Although Dr Sellu's criminal conviction was overturned on appeal there remained a very serious allegation that he failed to provide good clinical care to his patient.
"It could only be resolved by referring the case to the Medical Practitioners Tribunal Service. The tribunal has resolved the dispute of facts, in the doctor's favour."