How London battled the 'Beast from the East'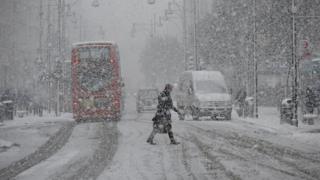 It was a week many won't forget with freezing temperatures, snow and ice.
Transport for London (TfL) said one in five commuters stayed away.
I certainly can't remember a period of such sustained challenges for London's transport. Only the Olympics in 2012 has come close and that involved years of planning.
So how did the capital cope?
Well broadly London kept on moving but, of course, many services were affected.
There was certainly an improvement compared to the infamous snow day when London's bus fleet ground to a halt in 2009.
Then, communications between different authorities meant roads to bus depots weren't gritted by councils.
Certainly those gaps seem to have been filled and lessons on the roads seem to have been learnt.
The main routes seem to get gritted quite well, although side roads and pavements - perhaps understandably - were not.
However, the fragmentation of the industry did cause other problems this time.
The Overground and TfL Rail suffered particularly badly as they share tracks with Network Rail.
And when Network Rail implemented its severe winter strategy, Metro services were cut to allow more de-icing trains.
On the trains, by focussing on reduced timetables, train companies mainly managed to provide a degree of service.
Although the warnings meant many stayed away (working from home is not as difficult as it once was) by the time trains got into London they were absolutely packed.
The most serious incident happened at Lewisham when passengers were left stranded on trains for over four hours without toilets and felt they had no alternative other than to get off the trains themselves.
Certainly there seems to have been a breakdown in communication and rescue protocols. Clearly the evacuation plan wasn't activated or just didn't work.
The Rail Safety and Standards Board says: "The objective should be to ensure that no passenger is stranded on a train without functioning toilet facilities for more than 60 minutes."
It adds: "Previous experience also indicates that passengers in the London area tend to be quicker to start to self evacuate than those elsewhere in the country."
Southeastern is now considering compensation.
Of course, all of this winter weather will have cost the transport authorities money.
In a leaked email a few weeks ago, TfL Surface Transport said it was not meeting the efficiencies needed to balance its books.
Now you would expect there to be even more pressure on the finances - it must have cost TfL millions of pounds to keep London running.
Finally, spare a thought for those who tried to keep London moving such as engineers out in horrendous conditions trying to knock icicles from tunnels or hacking ice out of points.
They deserve our gratitude.
Let me know your thoughts.