Londoners told to limit water use as supply problems continue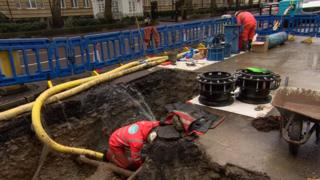 Thousands of Londoners have been told "use as little water as possible" after severe weather led to burst pipes.
More than 20,000 homes were left with no running water at the weekend after the deep freeze and thaw.
Thames Water said about 5,000 homes remain affected, adding it repaired a large leaking water pipe which had caused low pressure or no water.
The firm was criticised after its pipe network had failed with the weather, which was deemed a "feeble excuse".
Lambeth councillor Scott Ainslie called on Thames Water to "start reinvesting in the pipework".
"The country can't slow down every time the temperature falls below zero for a few days", he said.
"They can't get away with a feeble excuse that it's exceptional weather - I think the worst it got to was minus six in London, we've had minus six before."
The councillor, who described Streatham High Road as a "ghost town" with many businesses forced to shut for the last few days, said he hoped to meet a company official once the current problems are fixed.
London Mayor Sadiq Khan said it was "unacceptable" that thousands of homes in the capital still lacked water.
Thames Water said it was taking longer than expected to restore supplies to homes in the SW12, SW15 SW16 and SW17 postcodes.
It said households in NW2, NW3, NW5, NW11, N2, N6, N10 and N19 may still be facing low pressure but staff were working in those areas.
'Take short showers'
Thames Water said the water problem in North West London was a "booster problem with Hampstead reservoir".
"The supply is right down and we've not been able to keep up with demand. We're trying to fill it now but it could take some hours", a spokesman said.
The company said it was pumping an extra 500 million litres of water a day - the equivalent of 200 Olympic swimming pools - through its network to help restore people's supply.
Up to 130 teams of engineers and technicians are finding and fixing leaks across the region, the spokesman said.
"If your property is above ground floor level, water may take longer to reach you. It may also need assistance from managing agents and landlords, as internal pumps may need to be reset to restore pressure to your floor," a statement from the firm said.
Customers have been asked to take short showers rather than baths, and to not leave taps "running unnecessarily and only run washing machines and dishwashers when you have a full load".
Some schools in the capital are shut for the day because they cannot guarantee running water.
A tweet from the Dunraven School in Lambeth said: "We'd hoped things would have been resolved by now. No water on either site means we can't open the school. We will update families when we can."
Sunnyhill Primary school in Streatham also said it would be shut.
Hundreds of customers took to Twitter to highlight water supply problems.
South West London and St George's Mental Health NHS Trust also took to Twitter to appeal to Thames Water for bottled water for its patients - and it seems to have worked.
Debbie Morrison told the BBC her house in Wandsworth had been without water since 20:00 GMT on Saturday "with no information on when the supplies will be reinstated".
She said: "You can't get through on the telephone and the only means of communications with Thames Water is via the website and Twitter.
"I am concerned for all the elderly people stuck without water or information - and disabled people."
Shops reportedly ran out of bottled water in some of the worst-affected areas, though Thames Water have set up water bottle stations in Balham, Cricklewood and Hampstead while the burst pipes are being fixed.
But earlier, it said it had since temporarily run out of water at two of its four locations, which caused customers to vent their frustrations on Twitter.
Jerry White, business manager at the firm, said freezing temperatures followed by a "sudden thaw over Friday night" has led to a sharp increase in reported leakages and burst pipes.
There has also been a "20% jump in the demand for water in the last five days", he added.
"We're asking customers to look at their pipes in their properties and end any unnecessary use of water, such as washing a car," Mr White said.