Weather-related water problems hit 20,000 London homes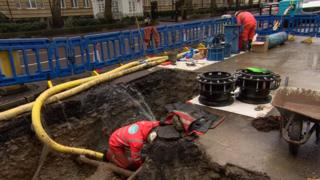 More than 20,000 homes in London were left without water or suffered from low pressure because of freezing weather.
Thames Water said it was dealing with an "unprecedented demand" because of multiple burst mains, leaks and a drained reservoir in Hampstead.
Customers said they could not register outages as the helpline is unavailable.
By Sunday night the number of affected properties had fallen to 12,000, but Thames Water urged those with water to "use as little as possible".
"We are putting as much extra water as we can into our local networks and fixing leaks and bursts as quickly as possible," Thames Water said in a statement.
"Please do not use water for anything that isn't essential... This will make a real difference."
Hundreds of customers have been on Twitter highlighting problems with their water supply to the company.
Debbie Morrison told the BBC her house in Wandsworth had been without water since 20:00 GMT on Saturday "with no information on when the supplies will be reinstated".
She said: "You can't get through on the telephone and the only means of communications with Thames Water is via the website and Twitter.
"I am concerned for all the elderly people stuck without water or information - and disabled people."
Some schools across the capital have said they will be closed on Monday because they cannot guarantee running water.
Shops reportedly run out of bottled water in some of the worst-affected areas, though Thames Water was setting up water bottle stations while the burst pipes were being fixed.
Jerry White, business manager at Thames Water, said engineers were "working extra hard" to get on top of the problems before Monday when an increase in demand is expected.
Mr White said freezing temperatures followed by a "sudden thaw over Friday night" has led to a sharp increase in reported leakages and burst pipes.
There has also been a "20% jump in the demand for water in the last five days", he added.
"We're asking customers to look at their pipes in their properties and end any unnecessary use of water, such as washing a car," Mr White said.