Knife-wielding robber hands sweets to child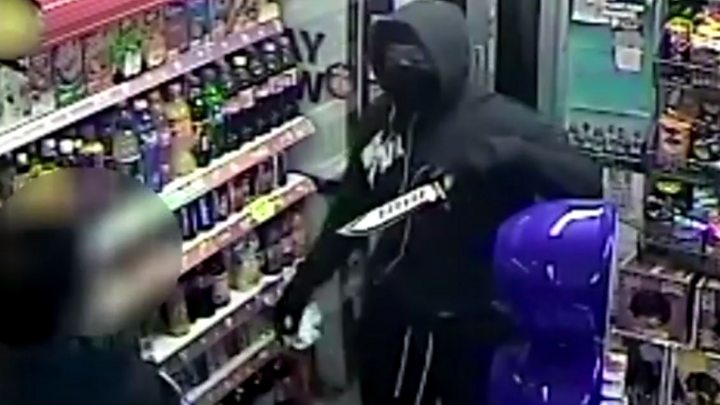 A man armed with a hunting knife handed cigarettes, sweets and canned drinks to a woman and a boy after robbing a local shop in Erith, in south-east London.
The man was caught on CCTV brandishing the knife at the store's owner on Brook Street at 20:15 GMT on 1 February.
He demanded cash from behind the counter and emptied the till's contents into a white plastic bag, police said.
The man asked the customers to wait outside before carrying out the raid, giving them the items and running off.
He was last seen heading in the direction of Northumberland Heath Park.
Police have released CCTV images as part of a witness appeal.
'Wait outside'
The suspect is described by police as black, about 5ft 6ins tall, and was wearing dark-coloured clothing, including a black Nike tracksuit, scarf, hat and gloves.
He was questioning the 45-year-old shop owner about where the money was kept when the woman and boy entered the store.
After asking them to wait outside, he then left the shop to inquire what they wanted.
Re-entering the store, he then took eight packets of cigarettes, two canned drinks and some sweets out to the pair before leaving the scene.
Det Con Maxine Hudd, of the Metropolitan Police, said: "We believe that this could possibly be linked to a number of robberies that have taken place in the Erith area since 15 December 2017.
"Police are appealing for witnesses to this incident, specifically the woman and child, who were outside the shop, or anyone who saw the suspect enter or leave the park."