Isaiah Haastrup's parents lose life-support appeal bid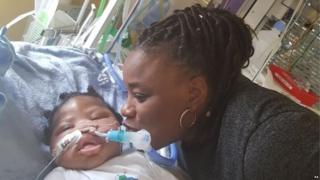 The parents of a brain-damaged baby have lost their bid to appeal against a decision to stop his life-support treatment.
Three High Court judges dismissed Lanre Haastrup and Takesha Thomas's attempt to overturn a ruling allowing doctors to only give 12-month-old Isaiah Haastrup palliative care.
Mr Haastrup said he wants to take the case to the Supreme Court.
Experts said further treatment was "futile" and "burdensome".
Specialists at King's College Hospital added that giving Isaiah continued intensive care treatment was "not in his best interests".
However, Mr Haastrup said a treatment "known as hyperbaric therapy" exists that could help his son. He said he and Ms Thomas would try to take their legal battle to the Supreme Court or the European Court of Human Rights.
"We are not giving up fighting for Isaiah. I think the Court of Appeal judges are wrong," he said.
He told BBC Radio London the treatment, which uses "oxygen to wake up dead cells in the body", would cure his son's symptoms, "rejuvenate his brain" and help him "immensely".
'Catastrophic'
The baby suffered "catastrophic" brain damage due to being deprived of oxygen at birth, an earlier hearing was told.
Doctors said Isaiah was in a low level of consciousness, could not move or breathe independently and was connected to a ventilator.
They also said he did not respond to stimulation.
However, Ms Thomas, from Peckham, south-east London, told the judge at the time: "When I speak to him he will respond, slowly, by opening one eye."
"I see a child who is injured. He needs love. He needs care. I have it. I can give it," she added.
Hospital bosses decided on Friday to lift a ban they had imposed on Mr Haastrup after they said he had lost his temper and was "aggressive" and "threatening" towards staff members.
Mr Haastrup, also from Peckham, said he would be "irreparably damaged" if the ban meant Isaiah had died without seeing him.
A King's College Hospital spokesperson said it had been an "extremely difficult time" for everyone involved in Isaiah's care.
"The decision to transfer Isaiah to palliative care is in his best interests and based on expert evidence," the spokesperson added.
"Our priority now is to provide Isaiah with the care he needs, working closely with and supporting his family."