Pontoon Dock DLR: Two in hospital after explosion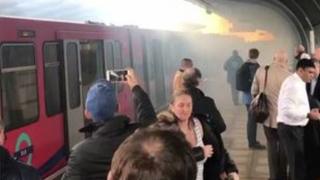 Two people have been taken to hospital after an explosion on a Docklands Light Railway (DLR) train.
A man and a woman sustained minor injuries as they were evacuated from the train at Pontoon Dock, east London, shortly after 11:00 GMT on Monday.
A video on social media shows the platform filled with smoke.
British Transport Police said an electrical fault caused the "minor explosion" and fire. An investigation into the cause is under way.
'I pegged it'
Paddy Brazel was on the train on his way back from City Airport after a weekend in Dublin when he heard a "very loud" explosion.
The 28-year-old, who uses the DLR to get to work every day from Wapping, said: "I heard a scream then some lads shouted 'get off' and 'run'.
"I looked over my shoulder and then the explosion happened. It was very loud.
"I pegged it off the train - some people ran down on to the tracks and I wasn't far off joining them as the smoke was in between me and the exit."
London Ambulance Service said it treated a man and a woman for minor injuries before taking them to hospital.
Mark Davis, Transport for London's interim general manager for the DLR, said: "The cause of the smoke was an electrical fault under one of the carriages, which resulted in a small fire that was quickly extinguished.
"Understandably this was a distressing incident for our customers, for which I give my sincere apologies."
Pontoon Dock station was closed and there was no DLR service between Canning Town and Woolwich Arsenal while staff resolved the issue.