Haringey Council row: High Court backs £2bn housing project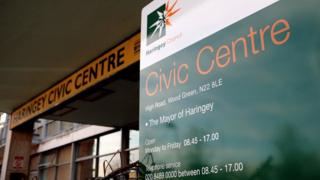 The High Court has given the go-ahead to a £2bn housing scheme in north London after a legal fight to stop it.
The project known as the Haringey Development Vehicle (HDV) has caused division in the Labour-led Haringey Council.
The authority said it welcomed the judgment but the final decision to establish the HDV would be taken by a future administration.
The complainants are planning to appeal.
The legal challenge was brought by a group of Haringey residents who said the council failed in its public sector equality duty, its duty to consult properly and should have made the decision in full council rather than the cabinet.
But in his judgment on Thursday, Mr Justice Ouseley concluded it should be rejected "on all grounds".
Council leader Claire Kober, who agreed the scheme with the authority's cabinet in July 2017, announced in January that she is stepping down as leader over the row.
The public private partnership to redevelop Northumberland Park, a large council estate, and build 6,400 new homes has proved hugely divisive within the Haringey Labour Party, and came to national attention when Labour leader Jeremy Corbyn signalled his misgivings at last year's party conference.
Labour's National Executive Committee in January called on the authority to halt the scheme following campaigning against it by Momentum.
Opponents to the HDV say it could lead to social cleansing and give too much power to a private company, while supporters argue it will bring much needed private funds into the regeneration of a deprived area.
Ms Kober told the Andrew Marr show that councils "simply do not have the powers, resources or expertise" to deal with the housing crisis on their own.
The council said in a statement that establishing the HDV remains its "agreed approach" and that it is "committed to delivering the new homes, jobs and community facilities".