Croydon tram crash: TfL receives 87 claims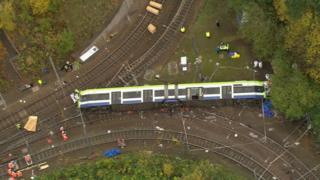 Transport for London (TfL) has received 87 claims for compensation over the Croydon tram crash, a report has found.
The second investigation out of four into the cause of the derailment, which killed seven and injured more than 50 people, has been published by TfL.
It says 18 injury and "fatal accident" claims have been resolved - including claims by two bereaved families.
TfL says it has paid more than £2.2m in compensation, counselling and "other activities" to support those affected.
In December, the Rail Accident Investigation Branch found the driver of the tram "possibly had a micro-sleep" moments before the tram overturned in November 2016.
The driver of the tram, who was arrested on suspicion of manslaughter, remains under investigation as part of the British Transport Police's criminal investigation.
The Office for Road and Rail (ORR) is looking at whether there were any health and safety breaches which contributed to the crash.