Celine Dookhran trial: Accused blames murder on 'rape victim'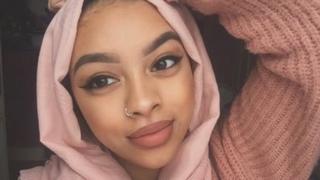 A builder accused of rape and murder said he found his second alleged victim with "blood on her hands" after she killed his first alleged victim.
Mujahid Arshid, 33, denies the rape and murder of his niece Celine Dookhran and raping and trying to kill another woman, who cannot be named.
Giving evidence in his defence, Mr Arshid repeated his claim that the second victim killed Ms Dookhran.
He said the allegations against him are "complete lies".
Mr Arshid, of no fixed address, said the women travelled with him willingly to an empty house in Kingston, south-west London, in July 2017.
He told jurors at the Old Bailey he had "hoped they would have a nice day out".
'Knife in hand'
The defendant claimed he had consensual sex with both females - first the second woman, and then Celine Dookhran - in an upstairs bedroom.
He said after he slept with Ms Dookhran the second woman "burst into the room" and "was going crazy".
"I left them to it and went outside to my truck," he said.
He said when he came back he found the second woman in the upstairs bathroom "knife in hand - blood on her hands" as Ms Dookhran lay wounded in the bath.
"I never knew so much blood come out of a person," he added.
He said he helped the second woman put Ms Dookhran body in a freezer downstairs after she suggested they move her.
Mr Arshid said the second woman grabbed the knife and ran towards him as they cleaned up.
He said while "fighting for my life" and trying to take the knife off her, the woman sustained her injuries.
The woman rejected the defence claims last week, saying "I disagree" and "I disagree completely" each time an allegation was put to her.
Mr Arshid said the fight ended when they both became too tired. He said they discussed going abroad together before cleaning up and leaving.
Earlier on Tuesday the court heard Mr Arshid had offered an undercover police officer the chance to drug and rape one of his alleged victims.
Mr Arshid is accused of taking the two women to the Kingston house where he allegedly raped them both, murdered Ms Dookhran and left her body in a large freezer, and tried to murder the second woman by cutting her throat.
It is claimed he was assisted in the initial kidnap by 28-year-old Vincent Tappu.
Mr Arshid has pleaded not guilty to murder, attempted murder, rape of both women and the sexual assault and assault by penetration of the surviving woman when she was a child.
He and Mr Tappu, of Spencer Road, Acton, also deny kidnap and false imprisonment, and possession of a firearm with intent.
The trial continues.