Hatton Garden gang ringleaders ordered to pay £27.5m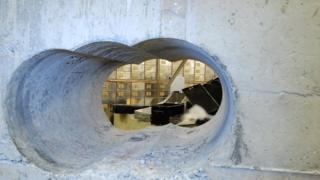 The four ringleaders behind the Hatton Garden raid must pay a total of £27.5m or serve another seven years in jail.
John "Kenny" Collins, 77, Daniel Jones, 63, Terry Perkins, 69, and Brian Reader, 78, were ordered to pay the money back during a confiscation ruling at Woolwich Crown Court.
The gang stole goods after drilling a hole in the wall of a vault at Hatton Garden Safe Deposit in Easter 2015.
The raid has been branded the "largest burglary in English legal history".
It is thought two thirds of the valuables remain unrecovered.
Judge Christopher Kinch QC said the men jointly benefitted from an estimated £13.69m worth of stolen cash, gold and gems.
The breakdown of the amounts ordered by the judge on Tuesday, based on the individuals' "available assets", are:
John Collins, of Islington, north London - £7,686,039
Daniel Jones, of Enfield, north London - £6,649,827
Terry Perkins, of Enfield - £6,526,571
Brian Reader, of Dartford, Kent - £6,644,951, including the sale of his £639,800 home and development land worth £533,000
Handing down his ruling, the judge said: "A number of these defendants are not only of a certain age, but have in some cases serious health problems.
"But as a matter of principle and policy it is very difficult to endorse any approach that there is a particular treatment for someone who chooses to go out and commit offences at the advanced stage of their lives that some of these defendants were."
Collins, Jones, and Perkins pleaded guilty to conspiracy to commit burglary and were each jailed for seven years in 2016.
Reader, who was too ill to attend the initial sentencing, was later jailed for six years and three months.
Tom Wainwright, representing Reader, said an increase in his sentence "does not have to be very long for it to mean, in reality, he will serve the rest of his life in custody".
The barristers for Jones and Perkins said their clients would have to serve the default sentence as neither will be able to raise the funds.
'Criminal lifestyle'
Carl Wood and William "Billy the fish" Lincoln, 60, of Bethnal Green, east London, were given six and seven-year sentences respectively for the same offence as the rest of the gang, as well as one count of conspiracy to conceal, convert or transfer criminal property.
Wood, 60, of Cheshunt, Hertfordshire, has already ordered to pay more than £50,000.
Plumber Hugh Doyle, who helped the burglars, was ordered to pay £367.50 for his "general criminal conduct" at the court on Tuesday.
Doyle, of Enfield, was convicted in 2016 of providing access to a yard where goods from the raid could be moved between vehicles.
The judge said Doyle, 50, had not received any benefit, payment or reward for his participation in raid, but that he had been deemed to have benefitted £27,194.44 from the proceeds of a "criminal lifestyle".
He said Doyle had "limited assets" and ordered him to pay the sum within 14 days.