Primary school in Isleworth suggests shorter week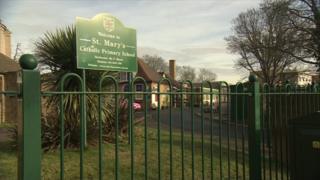 A school in west London has proposed dropping half a day of teaching per week to save money.
St Mary's Catholic Primary School in Isleworth said it is struggling with its budget.
The school has suggested that classes finish at 12:45 GMT on Fridays from September.
In a letter posted on the school website, parents were asked to consider finding their own childcare arrangements for Friday afternoons.
The school said it could run an after-school club for about 150 pupils but that it would cost £4 per child.
'Massive issue'
The school said it has already cut costs by not filling vacant posts and reducing music lessons.
There have been suggestions parents could be asked to pay to fill the budget gap, but the school says this would mean payments of £400 per child.
A spokesman for St Mary's said: "At this stage no decision has been made and the governors, following the consultation with the parents, are now consulting with staff.
"There's a lot more reflection and prayer to go until a decision is made."
The news comes as head teachers from 5,500 schools across England warned Chancellor Philip Hammond of "chronic" funding shortages.
Marlon Motha, who has two daughters who attend St Mary's, said: "The lack of consideration for working parents is quite striking.
"At the moment, that's the main problem - both the cost for some parents, and also the logistics - who's going to pick up the child?"
Other parents have taken to social media to express their worries.
Emma White said: "Surely the main problem is that our children will be receiving 10% less education than their peers.
"I don't believe this will have no impact when they get to secondary school."
Hounslow Council said it works closely with the school and is looking forward to seeing the outcome of the consultation.