Celine Dookhran trial: Accused 'offered victim to rape'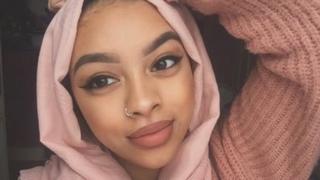 A builder accused of rape and murder had offered an undercover police officer the chance to drug and rape one of his alleged victims, a court heard.
Mujahid Arshid, 33, denies the rape and murder of his niece Celine Dookhran and raping and trying to kill another woman, who cannot be named.
Mr Arshid was caught in a police sting in 2013 but prosecutors decided not to press charges, the Old Bailey was told.
A jury heard he sent sexual fantasies about the second woman to an officer.
Mr Arshid is accused of taking the two women to an empty house in Kingston, south-west London, in July 2017 where he allegedly raped them both, murdered Ms Dookhran and left her body in a large freezer, and tried to murder the second woman by cutting her throat.
It is claimed he was assisted in the initial kidnap by 28-year-old Vincent Tappu, who denies the allegation.
Crispin Aylett QC, prosecuting, said the undercover officer had adopted the "covert persona of a paedophile" in order to investigate abuse online.
The detective frequented a website used by paedophiles and began exchanging messages with a person whom the prosecution say was Mr Arshid.
Explicit messages were read to jurors, including ones allegedly showing Mr Arshid asking the detective if he would like to "drug" and then "force" a teenage girl to have sex.
One message said "If we drug her" there would be no need to "waste time and energy holding her down".
No charges
The defendant sent photographs of the second woman - who was then a teenager - to the undercover officer, the court was told.
Mr Aylett said the messages were traced to Mr Arshid's home and he was eventually interviewed under caution in April 2014.
In interview he told police that a labourer called Zahid - with whom he was no longer in touch - had access to his internet router and had admitted being responsible for the chats, the court heard.
Jurors were told the Crown Prosecution Service decided not to press charges because Zahid had not been contacted, the relevant computer was unavailable and the undercover officer did not know what the other user looked like.
Mr Arshid, of no fixed address, has pleaded not guilty to murder, attempted murder, rape of both women and the sexual assault and assault by penetration of the surviving woman when she was a child.
He and Mr Tappu, of Spencer Road, Acton, also deny kidnap and false imprisonment, and possession of a firearm with intent.
The trial continues.