London Fire Brigade marks 100 years since Lambeth blaze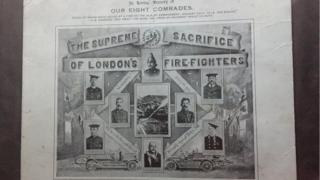 London Fire Brigade has held a memorial event to mark the 100-year anniversary of its largest peacetime loss of life.
In 1918, seven firefighters died in a fire at a cattle food manufacturers on Albert Embankment in Lambeth, south London.
Several others were also injured.
The memorial event took place at the site of the fire, which went on to become the brigade's headquarters from 1937 to 2008.
Sub-officers William Cornford and Walter Hall, along with firefighters John Coote Johnson, Arthur Page, Edmund Fairbrother, William Nash, and James Fay, all perished in the blaze.
Mr Fay had returned from active duty in World War One just a week before the fire.
'Brave and remarkable'
Kathryn Talboys, who is the great-granddaughter of Mr Cornford, attended the event.
"I was brought up with the tragedy of the loss of my great-grandfather, which was particularly poignant with my grandmother being barely four weeks old when he died," she said.
"Though his death is now 100 years ago it still resonates through the family, with thoughts of what might have been and the profound difference it made to us all."
The cause of the fire was never discovered but London Fire Brigade said the most likely cause was that rats had chewed into electrical cable.
The sparks would have then ignited the oil, linseed cake and spices stored in the warehouse.
The brigade said dense fog and heavy smoke "forced the men to wear helmets, which reduced their visibility and meant they could not see as an outer wall collapsed on top of them".
London Fire Brigade's director of operations, Tom George, said the seven men "represent a long line of brave and remarkable firefighters who to this day continue to put themselves in the line of danger to protect others".