Hammersmith burst water main flood repairs under way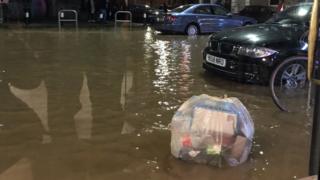 Repairs are being carried out after flooding from a burst water main left people trapped in cars and restaurants in west London.
Rescue boats helped to evacuate people trapped by the flooding in the King Street area of Hammersmith.
The water, which covered part of the street on Friday evening, was cleared during the night. Water supplies have been restored.
Thames Water said King Street remained partly closed during repair work.
"Flood water levels subsided soon after midnight and our team is now continuing the clean-up and working on the repair", a spokesman said.
"We also have a full team in the area helping our customers who have been affected.
"We're sorry for the disruption and will get everything back to normal as quickly as possible."
London Fire Brigade said 50 staff helped tackle the flooding. It said seven people were evacuated from their homes on Friday night.
Photos posted on social media showed the water filling the street, while people reported being stuck inside buildings in the area.