Burst main 'leaves people stuck in cars' in Hammersmith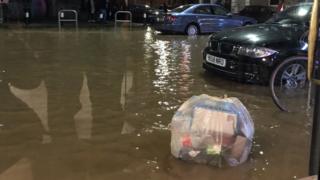 Flooding from a burst water main in a busy area of west London left people trapped in cars and restaurants.
Rescue boats helped to evacuate people trapped by the flooding in the King Street area in Hammersmith.
Water began to fill the street on Friday evening, covering an area of about 200m.
Financial Times journalist Jonathan Margolis described "numerous police and fire vehicles attempting to cope with a chaotic situation".
"The water is about two feet deep and rising," he added.
'We have wine'
Others took to Twitter with reports of drivers stranded in vehicles and having to make their way home through the deluge.
Thames Water said the flood water had receded by Saturday morning, and work to repair the damaged main had started.
London Fire Brigade (LFB) said it had evacuated seven people from their homes.
Station manager Paul Fitzgerald said crews had used boats to assist people who needed to leave their homes, but the majority of residents were able to stay in their properties.
The brigade also handed out sandbags in a bid to stop water getting into homes and other premises.
Thames Water said areas across central and west London may have no water or low pressure.
A statement from the water company said: "We are on our way to a burst water main in King Street W6 which may be causing this and should have this fixed by 01:00 GMT."