Storm forces London animal cemetery to close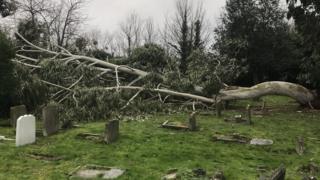 An animal cemetery in east London has closed for safety reasons after a storm brought down a tree.
Animals buried at Ilford Pet Cemetery include Bruce Forsyth's family dog Rusty as well as decorated military animals.
The animal charity PDSA, which runs the cemetery, says large eucalyptus tree has split in two, with one half lying on the ground and one upright.
The PDSA fears gravestones might have been damaged.
The charity estimates that removing the tree, which has stood in the cemetery for over 50 years and was donated by a visitor from Australia, and repairing the damage will cost about £3,000.
It is appealing to the public to help it cover the cost.
'Much-loved pets'
Shirley De'ath, client services manager at the neighbouring Ilford PDSA Pet Clinic, said: "We've had to close the cemetery and the visitor centre, because of safety concerns.
"Lots of visitors come to our tranquil cemetery every week and many visit our memorial garden, where they commemorate the much-loved pets that have passed on.
"It's a special place for many owners and we hope that the public will rally round and help us to reopen the cemetery as soon as possible."
The cemetery is home to 12 recipients of the PDSA Dickin Medal, the animal equivalent of the Victoria Cross, including Simon - the only cat to be awarded the medal.
It was instituted in 1943 by the charity's founder Maria Dickin and acknowledges outstanding acts of bravery or devotion to duty displayed by animals serving with the armed forces in any war.
Since then, it has been awarded to 33 dogs, 32 pigeons, four horses and Simon.