Minicab cross border hiring and toothless regulations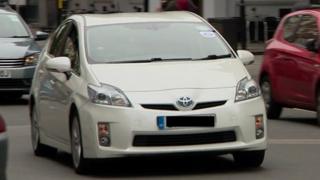 London minicab drivers are infuriating their counterparts and local taxi drivers in York for heading north to look for work.
It is also happening in many other towns and cities such as Brighton, Reading and Bristol.
Why?
There is meant to be something called a triple licensing lock where a job from a passenger can only be accepted if the vehicle, the driver and the booking are under the jurisdiction of the same licensing authority.
That means if I'm in Manchester and I want a minicab in London to pick me up, it is legitimate for a minicab company in London to send a London driver.
They aren't meant to send a minicab registered in Manchester.
But the reality is minicabs registered to Transport for London (TfL) are working and taking jobs in areas like Brighton and Reading.
We now have the ludicrous situation where we have officials in York who have no control at all over the minicabs that are working in their own city.
Surely that is not why the regulations were designed?
The new app technology is just making the regulations look antiquated and out of date.
I've been told TfL has previously sent officials to other cities to check on London minicabs.
London minicabs only come under London regulations (and vice versa).
Saf Din from the York Hackney Carriage Association told me cross border hiring "is having a massive impact".
"These drivers are coming into York and sleeping in lay-bys. They have no knowledge of the area and the whole situation is dangerous."
"We need cross border hiring stopped and for it to be properly regulated," he said.
There is concern about cross border hiring in Parliament. The Taxis and Private Hire Vehicle Task and Finish group has been gathering evidence aiming to present it to the government.
TfL said in a statement: "A national change is required to address issues of cross border hiring which will otherwise further contribute to enforcement, congestion, pollution and parking issues in London.
"We do not have powers to restrict this type of cross border operation and are currently raising our concerns with government to ensure we have appropriate controls."
In the Mayor Sadiq Khan's Taxi and Private Hire action plan it says : "It cannot be right that Parliament intended private hire licensees to license themselves with one authority with, for example, the sole intention of working 100% of the time in another authority.
"Introducing a requirement to ensure a journey either starts or ends in the area for which the driver and vehicle are licensed will still allow flexibility to undertake return journeys. A similar requirement exists in New York City."
Steve Garelick a regional organiser at the GMB who represent minicabs, believes "it makes a mockery of local licensing."
"Wholesale changes need to be made. It is a matter of public safety."
Commenting on cross border hiring, a spokesperson for Uber said: "While this is something which the law allows for we are listening to local councils and regulators on how best to support them on local licensing issues".