Croydon Council drops legal case over Melody Driscoll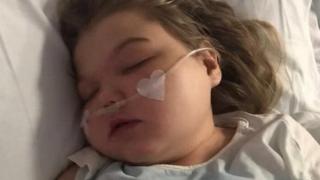 A council which threatened a mother with legal action over custody of her sick child has apologised and dropped the case.
Karina Driscoll was accused by doctors of "obstructing" the care of her daughter Melody, 11, who suffers from a range of medical conditions.
The 35-year-old said the ordeal caused her "unimaginable grief".
Both Croydon Council and King's College Hospital, where Melody is a patient, said they are working with the family.
Hospital staff told the council Mrs Driscoll and her husband Nigel were "refusing to co-operate with Melody's care plan".
She said this led to the couple being labelled as "problematic parents".
"I just think it is absolutely madness," Mrs Driscoll said.
"I appreciate the apology, but since that letter came to us it has ripped our family to shreds.
"All we had tried to do was to protect Melody. If we were a weaker family, then we might not have had the determination to fight this and could have lost Melody.
"That would have destroyed me."
Melody has Rett syndrome and part of her care plan was to wean her off painkillers, which was against her parents wishes, her mother said.
The council said it could not "comment in detail" on why the letter was sent in the first place.
A spokeswoman added: "We apologise to Melody and her family for the distress this situation has caused."
The hospital said any decisions made by its team were taken in the "patient's best interests".
"We will continue to work with and support Melody's parents," a spokesman added.