Death threats over Lee Rigby memorial removal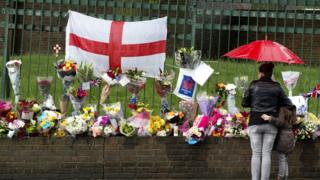 A council worker has received death threats for taking down a memorial in tribute to murdered soldier Lee Rigby.
The shrine was set up outside the Royal Artillery barracks where Mr Rigby was killed in Woolwich, south-east London.
Greenwich Council said it removed the shrine following requests from Mr Rigby's family.
The authority said far-right groups used the shrine "for their own causes" and threatened council workers for "going about their job".
It added: "The council has worked with his [Lee Rigby's] family on how best to honour his memory and decided to install a plaque at St George's Garrison Church opposite the barracks."
Flags have since been put up on the railings which was going against the family's wishes, the council said.
The council said the removal was met with negative responses amongst far-right groups such as the English Defence League (EDL) and anti-extremist group Football Lads Alliance (FLA).
"A film of our caretaker taking down the flags was posted on various sites and the exchanges have become increasingly hostile and threatening.
"The caretaker has had threats against his life and his details posted online with some people offering money to put him in a grave.
"We understand the community feeling about the death of Lee Rigby but we believe that our primary responsibility is to our community and Lee's family who want the area to be left."
The council said it would leave the floral tributes on the railings.
'Patriot group' Wessex Resistance posted on its Facebook page that the memorial was a way "his family can remember the way he lived and not the placed he was murdered".
"They [Greenwich council] refuse to put a plaque at the site of Lee Rigby's murder because they want to sweep it under the carpet. They want people to forget. We will never forget."
Fusilier Lee Rigby, 25, was off-duty when he was hit by a car outside the army barracks and then murdered.
In 2014, two men, Michael Adebolajo and Michael Adebowale were jailed for his murder.
The BBC has contacted the EDL and FLA for a comment.