Teen detained for Snapchat row murder in Tottenham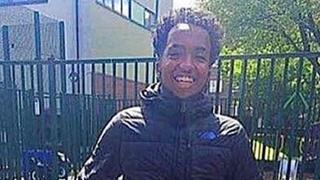 A teenager who stabbed his friend to death with a meat cleaver after a row on Snapchat has been detained.
Abdulrahman Ali, 16, sent laughing emojis during a group chat on the app when 16-year-old Osman Sharif Soufi claimed he was the toughest.
A violent row ensued and the next day the pair met in Tottenham and Ali stabbed Osman to death on 6 June.
He was sentenced to life detention with a minimum term of 15 years.
Judge Nicholas Hilliard said "it was murder in broad daylight on the streets of London", adding the use of knives by young people in violent attacks in London was "of huge public concern."
"Time and again they are used to lethal effect and with devastating consequences for the families of victims," he said.
Osman took offence at being mocked in front of the group on Snapchat and the argument rapidly escalated, the court heard.
He had allegedly threatened to "wet" (stab) Ali and give him a "drilling" (beat him up) and "rise the burning" (get a gun), according to another boy.
Ali armed himself with a 31cm knife and went to Tottenham Green to confront Osman. The pair then clashed in nearby Tynemouth Road and Ali stabbed Osman in the chest.
The knife passed down through Osman's rib, damaging his heart, lungs and liver and became embedded in his body, the court heard.
Ali fled to the Broadwater Farm Estate then went to his grandparents' home and changed his clothes.
He was arrested after his father called police and reported his son had been in a fight.
In a statement, Ali told police he had closed his eyes and Osman had run into him while he was holding the knife.
Giving evidence, Ali claimed it was an accident and that he was acting in self defence.