Sadiq Khan launches John Worboys judicial review bid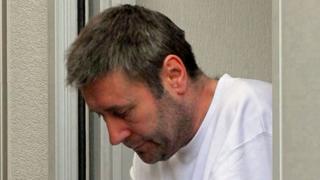 Sadiq Khan has lodged an application for a judicial review into the decision to release rapist John Worboys.
The black cab driver is believed to have carried out more than 100 rapes and sexual assaults on women in London between 2002 and 2008.
Two of his victims have also started proceedings against the decision.
The London mayor said the "astonishing and deeply concerning decision" made by the Parole Board to release him "simply cannot go unchallenged".
Worboys, 60, was jailed for a minimum term of eight years in 2009.
He was given an indeterminate sentence for public protection (IPP) after being convicted of 19 offences at Croydon Crown Court.
After a hearing about his case in November, the Parole Board decided to approve his release with "stringent" licence conditions.
Chairman Nick Hardwick has said the board was "confident" Worboys would not reoffend.
However, the mayor of London said the decision "must be properly scrutinised in the courts."
Letters received by Worboys' victims following his conviction suggested the black cab driver had received a life sentence "to all intents and purposes".
At his trial, jurors heard Worboys picked up his victims in London's West End and gave them champagne laced with sedatives, claiming he had won the lottery or had won money at casinos.
---
What is a judicial review?
A judicial review is where a judge reviews the lawfulness of a decision made by a public body - in this case, the Parole Board.
It is less about whether the decision was right or wrong, and more about challenging whether proper procedures were followed to reach the decision.
---
He was convicted of one rape, five sexual assaults, one attempted assault and 12 drugging charges.
Harriet Wistrich, the women's solicitor, says she has been contacted by a number of other victims of Worboys and will be presenting a dossier of cases to police and the Crown Prosecution Service requesting they investigate further and prosecute.
The dossier includes two previously unreported cases from 2002 and 2003 and two cases that were investigated by police that would pass the evidential threshold but have not been prosecuted.
Scotland Yard is currently investigating a new sexual assault allegation made against Worboys which was reported to them this month.
No arrests have been made.