Celine Dookhran trial: Accused told wife of 'a darkness'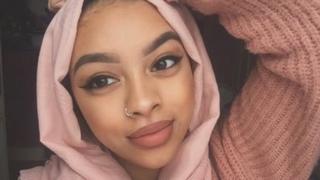 A man accused of raping and killing his niece told his wife "a darkness came over me" after he was "attacked" by her and another woman, a court has heard.
Mujahid Arshid also told Aisha Kalyansingh he was "running away" to Pakistan after she accused him of the attacks, the Old Bailey heard.
The 33-year-old, of no fixed address, is accused of raping and murdering Celine Dookhran and attacking another woman who cannot be identified.
He denies all the charges.
Mr Arshid is accused of taking the two women to an empty house in Kingston, south-west London, where he allegedly raped them both, murdered Ms Dookhran and left her body in a large freezer, and tried to murder the second woman by cutting her throat.
It is claimed he was assisted in the initial kidnap by 28-year-old Vincent Tappu, who denies the allegation.
Ms Kalyansingh told the jury her husband claimed in WhatsApp messages that the women "attacked me" after she called him a "psycho".
He added "a darkness came over me" and cast blame on the survivor, claiming she had planned it with him and "it was her idea about Celine".
He also said he was "running away" and would contact his wife when he got to Pakistan, the court heard.
Ms Kalyansingh said Ms Dookhran, 20, had come to live with her and Mr Arshid after having problems with her family about her Libyan boyfriend.
The Old Bailey has heard the day before the alleged kidnap, there was a family meeting about the relationship.
Ms Kalyansingh said before the boyfriend arrived, Mr Arshid produced an axe which he said was "just for safety".
She also told the jury when she spoke to her husband after the women went missing, he suggested they had "run off" with £13,000 of his money.
The court also heard from Ms Dookhran's boyfriend Omar Khmag who said she thought her uncle was "a pervert" and "creepy".
In a written statement, Mr Khmag said she "believed Mujahid had a camera set up in the bathroom" in the family's home.
Mr Arshid has pleaded not guilty to murder, attempted murder, rape of both women and the sexual assault and assault by penetration of the surviving woman when she was a child.
He and Mr Tappu, of Spencer Road, Acton, also deny kidnap and false imprisonment, and possession of a firearm with intent.
The trial continues.