Council will not face manslaughter charge over Mile End Park death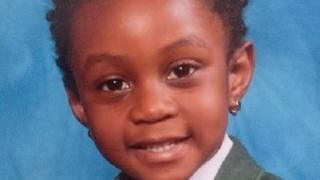 Tower Hamlets Council will not face manslaughter charges after a five-year-old girl died when play equipment collapsed on her in a park.
Alexia Walenkaki was playing on a rope swing in Mile End Park on 17 July 2015 when a tree trunk holding the swing fell on her.
The CPS said no fault was identified with the trunk during inspections before and after Alexia's death.
Alexia's mother requested a review of the decision, which is now under way.
Alexia went into cardiac arrest and died in hospital about an hour after the equipment she was playing on collapsed.
A letter from the CPS seen by the BBC said operational inspections were carried out on 1 June and 17 July 2015 and no issue with the log was identified.
The CPS decided no criminal charges for corporate manslaughter would be brought against the council due to "insufficient evidence".
Alexia's mother Vida Kwotuah said the decision was "disgusting" and claimed an annual inspection of the park had not taken place for almost two years.
She said: "Had they done it, she would not have died. They would have known that piece of equipment was rotten to the bottom."
Emily Wellstead, a solicitor representing Ms Kwotuah, said she did not think the council's inspection system "was good enough".
She said an annual inspection was "a lot more thorough and more in depth than the other inspections" but this had not happened since September 2013.
A review of the decision is being carried out by a lawyer who had no involvement in the initial case, the CPS said.
Tower Hamlets Council said it would be inappropriate to comment "in respect of an on-going matter".