Speeding driver jailed for killing cyclist in London hit-and-run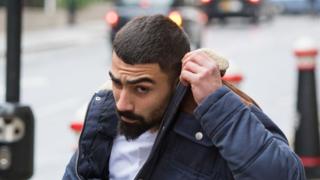 A speeding driver who killed a cyclist in a hit-and-run has been jailed for six years.
Ugur Unlu, 23, was going more than 50mph in a 20mph zone on Bounces Road in Enfield, north London, when he hit Anita Szucs.
Ms Szucs was coming towards Unlu when he hit her "head on" as he tried to overtake another car, the Old Bailey heard.
He pleaded guilty to three driving offences.
Unlu, of Cheshunt, in Broxbourne, Hertfordshire, had borrowed a white automatic Mercedes Smart car from his friend Huseyin Kaygisiz, who was in the passenger seat when the crash happened.
"You must have put your foot flat on the floor," Judge Rebecca Poulet QC told Unlu.
'Could have walked home'
The 30-year-old, who was on her way home to Enfield from a shift at Lidl, landed face down in the road and died later in hospital.
Judge Poulet said Unlu, who lived on Bounces Road, "did not need to have driven a car that night" and "could have walked home".
Having caused Ms Szucs, 30, "terrible injuries", she said, he drove on for two miles despite a "completely shattered windscreen" then left the car in another place, "probably hoping it would not be found".
Unlu, pleaded guilty to causing death by dangerous driving and causing death while driving without insurance.
He also admitted a charge of dangerous driving relating to the period after the crash.
He received a six-year jail term and was disqualified from driving for four years upon his release.
Part-time Sainsbury's assistant and business undergraduate Kaygisiz admitted causing death while driving without insurance, and dangerous driving.
He was sentenced to 24 weeks in prison suspended for two years, 150 hours of unpaid work and two months on a tagged curfew.