Finsbury Park murder victim was 'life-loving'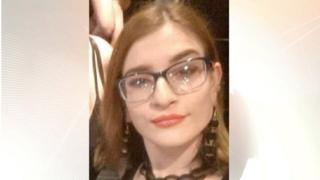 A woman who was murdered on her way home on Christmas Eve has been described as "life-loving" and "bubbly" by friends.
Iuliana Tudos, 22, also known as Julie or Lili, was found dead near a sports ground in Finsbury Park, north London, at about 16:30 GMT on Wednesday.
She died from a stab wound to the abdomen and a head injury, Scotland Yard said. No arrests have been made.
Ms Tudos loved music and always made people laugh, friends said.
Senya Taylor had known Ms Tudos for about three years.
She said her friend, who was of Russian and Greek origin, was "very kind, fun, life-loving.
"She was so young and friendly, she could make friends with anyone she met."
Ms Taylor said Ms Tudos "couldn't just disappear" because she always got in touch with friends to make sure they were home safely, and to tell them she was safe too.
The barmaid was last seen on CCTV at about 20:20 GMT on the edge of the park on Sunday as she headed home from Camden.
She was due spend the evening and Christmas Day at a friend's home in Enfield, but she never arrived.
A missing person appeal was launched before a member of the public found Ms Tudos's body.
Cards and flowers have been attached to a sign in the park near the police cordon.
One note described Ms Tudos as "beautiful" and said: "I will miss all the memories and the laughs we had together."
Another said she was a "happy and bubbly girl who would always make me laugh".
A drive to raise £4,000 to help Ms Tudos's family cover the cost of the funeral has led to more than £9,400 in donations in 18 hours.